Home

Welcome to KiDs ARe PeoPLe Inc.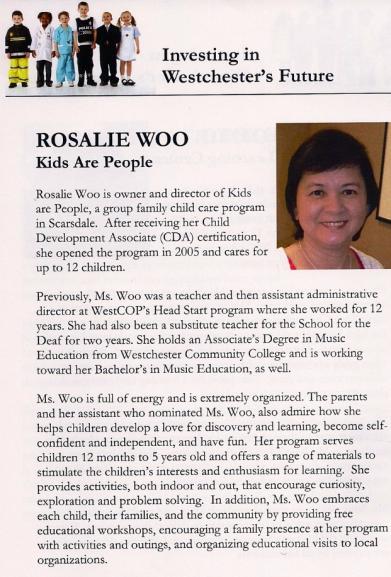 Proud to be a 2011 Joey Award Winner!!!
We offer a full day childcare program for both working and non-working families.
Children ages 18 months through 5 years are invited to the educationally progressive Kids are People Inc., where they encounter opportunities to develop academic, motor and social skills. We are firm believers in Early Childhood Education. A child's early years are the most important time in their lives. In our loving, safe, relaxed, and clean environment, the experienced staff provides children with the necessary tools, such as mixed age groups, individualized attention and hands-on activities to intensify and strengthen each child's understanding of himself, others and their surroundings. They learn best with hands-on, real life experiences. We want children to learn to be self-disciplined and self-motivated. They are natural learners, and learn best when they interact with others and work actively in material-rich environments.
At Kids are People Inc., the well-balanced schedule is flexible in order to make children not feel rushed, and is based on their needs. The curriculum developers based the programs on their knowledge of a child's intellectual, social, physical and emotional growth patterns. We provide the children with opportunities to learn skills through meaningful and interesting activities, with a hands-on approach to learning. In conjunction with what is learned in the classroom, educators create and strengthen relationships with each student's family to nurture the child's sense of identity as well as integrating different, but equally important wisdoms.
Each child keeps a journal to share daily activities, and monthly newsletters inform families about upcoming school activities and field trips. The school holds class Monday-Friday, 8:30am-5:30pm, with half-day and extended hours available. The center provides each child with breakfast and snack every day and parents provide their own lunch. The family should provide formula and items to cater to special diets.

Group Family Daycare and certified by the State of New York.